OWe left Gatwick just before the arrival of the much-anticipated December storm and arrived in St. Lucia in glorious sunshine. My girlfriend Issy and I rushed out of the tiny Hewanorra airport, stripping off our clothes in the heat, and wondered how the island was so lush and green, steaming with goodness and health, without any rain.
We didn't take long to find out, as the storm caught up with us on Christmas Eve, having ravaged the rest of the Caribbean, as Issy and I settled into the wonderful Rendezvous Hotel, northwest of the Isle. , feed the birds on our balcony with croissants. As the clouds darkened overhead, the birds dispersed in anticipation and phone reception began to become choppy. I guess there are few more reliable ways to disconnect from the rest of the world, your phone and email, and all other aspects of your daily reality, than through a storm of epic proportions. The rain was falling, the wind was howling and I was disconnected.
Saint Lucia itself, hotly contested by the French and the British, covers more than 200 square miles: it lies north of Barbados and south of Martinique, with the Caribbean Sea on one side and the Atlantic on the other. There is agriculture, a banana crop, Catholicism, lots of dusty Rastafarians, a bit of voodoo and a few wizards in the woods. Rodney Bay's lovely marina caters mostly to American yachts and boats, but the island really lives for the sun and those, like us, who want to buy some to sit half-naked.
Herod would have felt at home at the Rendezvous, a "hotel for couples", with no children, just partners of all ages, mostly from Britain and the United States. And most of the time too, at first glance, the couples – some retired, some young and even wearing Hawaiian shirts, such was the relaxation – loved each other, enjoying each other's company and even talking , when they looked up from their Phone (s.
All islands, especially those prone to storms, should have a poet for inspiration. The great Nobel laureate poet Derek Walcott is the president of this island, born in Castries in 1930 to an Afro-Caribbean mother and an English father – "I'm just a red nigger who loves the sea…" – and I was glancing over his masterpiece Omeros, encountering the ominous line "as he gazed at the island through the sloping monsoon", when the lights went out.
We had unpacked and gone down to the lobby for a cocktail when it happened. The rain had started. It rained all night, and all day, and again all night. It was not a soft, polite British rain, but a noisy, gluttonous, violent downpour in the darkness, soon accompanied by lightning and thunder which, again, went on forever, like hours of strobe lighting followed aerial bombardments.
Jet lagged and tired, we sat in the lobby with our cocktails, which were plentiful and included in the package. To get hold of marijuana, one of the obvious Caribbean bargains, just stroll along the beach, and it's good stuff, light and slightly hallucinogenic without being psychotic. And so, somewhat giddy and with our minds flying, we sank into deep couches for a while, wondering if this dramatic hurricane might be a spectacle staged for our interest and enjoyment. It certainly wasn't something you see a lot in Shepherd's Bush.
Soon there was water everywhere except where you wanted it. The airport was closed and the island seemed to vanish as roads and bridges were washed away, houses collapsed, trees swept away and crops destroyed. The hotel held on, but the power went out and soon we couldn't shit, shower or see. Otherwise it was fine, and the only possible distraction was listening to Blonde On Blonde on your headphones and waiting for the world to come back, if it did.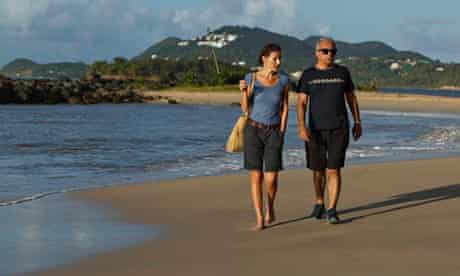 I was both lucky and unlucky in that I was brought up to work. Work, I was told when I was young, is a form of usefulness and dignity. So I came to fear the indolence and despair of inactivity. The holidays, it seemed to me, were always the perfect occasion to hear your parents arguing for a long time. However, the drowned island slowly began to recover from its soaking. The roads, some split in two, as if cracked with an axe, have been reconstructed. The beach, littered with rubbish from huge cruise ships passing by – like floating council properties – was being cleaned up.
And so, as the sun rose, I headed the other way, into inactivity. It took me a few days to get used to the impossible angst of sipping cocktails and staring at the sea. I told myself that in such circumstances, you could either die of boredom or learn to do nothing. without guilt. I have come to believe that doing nothing is a difficult art which should be usefully taught in schools; there might even be exams in it, which I would write myself, if I wasn't too lazy.
Not that nothing was happening at all. I like a girl with a sharp mind, and there's nothing sexier than a girl reading in a bikini. Before delving into the 600 pages of Herodotus in Italian, I saw that Issy was reading Les Liaisons Dangereuses by Laclos in French, an epistolary novel, an ancient form, rarely used now. I noticed almost everyone around us, reclining in their chairs or sitting at the bar in their shorts, writing texts and emails, and sending pictures – a flood of notes and short communications, flying through the world and changing everything in an instant with words. The epistolary is therefore not dead.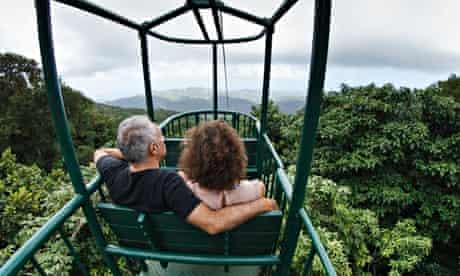 I also noticed, with some regret, that the book seemed dead since my last vacation. Who would have thought that such a perfect object, portable, bound paper with writing on it, cheap to buy and full of jokes, wisdom and sex, would one day expire, being, perhaps, too heavy to hold ? Everyone, I saw, read, but not as they had always read. Now they were staring at the bright lights of Kindles and iPads, where it was all there, all in front of them forever.
Not that the entertainment on offer at the resort wasn't plentiful, varied and fun. It's been a long time since I've seen a Santa Claus on water skis, or fire eaters, limbo dancers, stilt walkers, demons and ghosts. The staff danced wildly with guests on boat trips out to the bay, where we spotted the Pitons, St. Lucia's famous volcanic plugs. I was more eager than ever to be covered in seaweed while wrapped in foil as a method of extracting my "impurities" (they poured out).
Rarely have I eaten so much fresh grilled fish, before being transported through a rainforest in a cable car, looking down not to see a wild boar, a boa constrictor or even a Rastafarian – the forest had recently been cleared Rastas – but a German tourist in a purple mac and green helmet screaming through the forest on a zip line. And no West Indian, you should be warned, is ever more than a few moments away from attacking a steel drum with a rendition of Jingle Bells.
One of the waiters took me aside to tell me that, of course, in this quiet little island, people are poor and, worse, without opportunity. We were hassled most places we went by people trying to sell us things we didn't need as I was in India a lot recently. Who knew? The world is a market, a fury of exchange and demand, but beneath this artificial paradise, the subversive waiter kept whispering nervously looking to either side, the people seething with fury, already more humiliated than anyone should bear. Drive 10 minutes from Rendezvous and you'll soon find people living in primitive shacks without electricity, drawing water from standpipes across the road. The education system follows a British model and it is impossible for young people to find a way out. Many struggle because they cannot afford the uniform and shoes that everyone must wear. The purpose of young people, I was told, is to escape. The talented go to the United States or Canada; the others are left behind, working as servants and waiters, if they are lucky.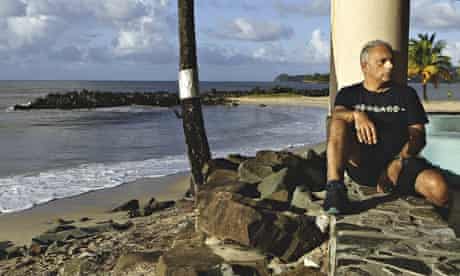 Meanwhile, as the army band in their fancy uniforms played Glenn Miller in the lobby and I thought of my parents' dance and struggled to remember what century it was, I remembered that Frantz Fanon wrote about "tourists eager for exoticism". At dinner, you'd see a sea of ​​cheerful white couples sipping champagne served by welcoming black uniformed staff.
The first world haves have always used the third world as a playground, a brothel, a resource and a factory. And the middle classes of the Third World – generally living elsewhere – have always been happy to sell off their finest things. This sweet and often comedic recreation of colonialism for the European elite, this suspended piece of the past – where ordinary white people can pretend to be aristocrats for a week – makes one wonder why there is nothing more fruitful or smart for voluntary workers. . The tourism industry recreates and sells a form of brutalized domination that generates more conflict than solutions, creating an endless cycle of infantilization, dependency and resentment. A poet like Derek Walcott could be referred to as someone who remembers for others, but people also have to do their own memory. There's a lot of beauty here – "emerald valleys and indigo hills" – but there's no beauty in being poor and hopeless.
Saint Lucia now has 13 direct flights a week, with Virgin Atlantic flying five times a week from Gatwick to Hewanorra. For more information, visit stlucia.org. For more information on Rendezvous and its new wedding packages, the Ever After Collection, visit theromanticholiday.com. For more information on Jus' Sail, visit jussail.com. For more information on the Sky Tram, go to rainforestadventure.com
The Last Word, by Hanif Kureishi, is published by Faber & Faber at £18.99.